Deluxe is a virtual creative studio headed by its director and founder, Frank Zepponi. The company is focused on dynamic brand building through both timeless, traditional practices as well as outside-the-box experiential services. Our work is, foremost, concept driven, utilizing "Story Telling Principled" (STP) methodologies developed in our own Austin-based think tank. Deluxe's clients range from consumer lifestyle and action sports to world-class festivals and branded events, and we work especially well as "activationists" for event sponsors. 
Deluxe's wheelhouse includes: brand generation and campaign development, event design and production, and graphic and 3-dimensional design services.
---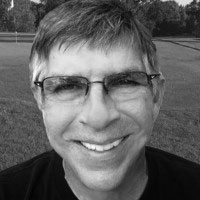 Frank is a veteran art director/designer who has published work appearing in the New York Art Directors Club Show, Print, Graphis, Creativity and How magazines. His twenty-five years experience in entertainment and B2C consumer industries includes key producer roles for the likes of Red Bull Energy Drink, K2 Skis, Ride Snowboards, Austin City Limits Music Festival, Peter Gabriel's WOMAD, and the Jimi Hendrix Foundation. Frank's interest in broadcast media and film also led to his involvement as creator/director of an animated series for Fox Family Channel, and as production designer for a feature-length film.
Currently residing in Austin, TX, Frank has taught communication design at Seattle's School of Visual Concepts, Texas State University, and the Art Institute of Austin, and has been keynote speaker and guest lecturer for the American Institute of Graphic Artists (AIGA), the Ad Federation (ADFed), International Festival and Events Association (IFEA), Baylor University, and Cornish College of the Arts. He holds an MFA in graphic design from the University of Washington, and has been a past board member for AIGA/Seattle.
---
To begin an inquiry as to what Deluxe can do for you, please use the contact page and give us a brief idea of what your company does and what you're looking for. In turn, we'll generate a custom deck that's in alignment with the task at hand, and also offer some ideas of what we feel would benefit your creative needs going forward.
Thank you for visiting Deluxe.